How much will your future monthly mortgage payment be? Let us help you with this guide.
Pittsburghers have often cited their city as the greatest: in its sports, in its people, and in its overall uniqueness. It's no surprise to those of us who call Pittsburgh home that it's been voted one of the most livable cities by The Economist Intelligence Unit. No wonder why people want to move here!
As many know, the journey of buying a new home can be exciting, but also long and stressful. From mortgage applications to move-in day, there's a lot of planning and time that goes into the process. Before you start searching for homes, you should understand how to calculate a mortgage payment in order to get an idea of what your monthly payment could be. When you can estimate what that expense will look like each month, you'll be better prepared to focus on homes within your price range.
What goes into repaying your mortgage loan?
So, what exactly does the schedule of repaying your mortgage loan look like? In its simplest form, repayment of a mortgage loan requires that the borrower make a monthly payment back to the lender. That monthly payment includes both repayment of the loan principal, plus monthly interest on the outstanding balance. Some lenders will also take a portion of your monthly payment and hold it in an escrow account to pay for your taxes and insurance. Loan payments are amortized so that your monthly payment remains the same during the repayment period, but during that time, the percentage of the amount that goes towards principal will increase as the outstanding mortgage balance decreases.
Estimate your monthly mortgage payment
Now that we know what goes into repaying your loan, let's find out how to calculate a mortgage payment. To do this, gather (or estimate) the following items:
Purchase price of the home
Loan length
Interest rate
Insurance costs
Estimate property taxes
Monthly Homeowner Association (HOA) dues (if applicable)
What's next when determining how to calculate a mortgage payment?
The good news is that you don't have to be a mathematician to figure out how to calculate a mortgage payment. We have a Mortgage Payment Calculator, complete with mortgage amortization schedule, that's here to do the work for you!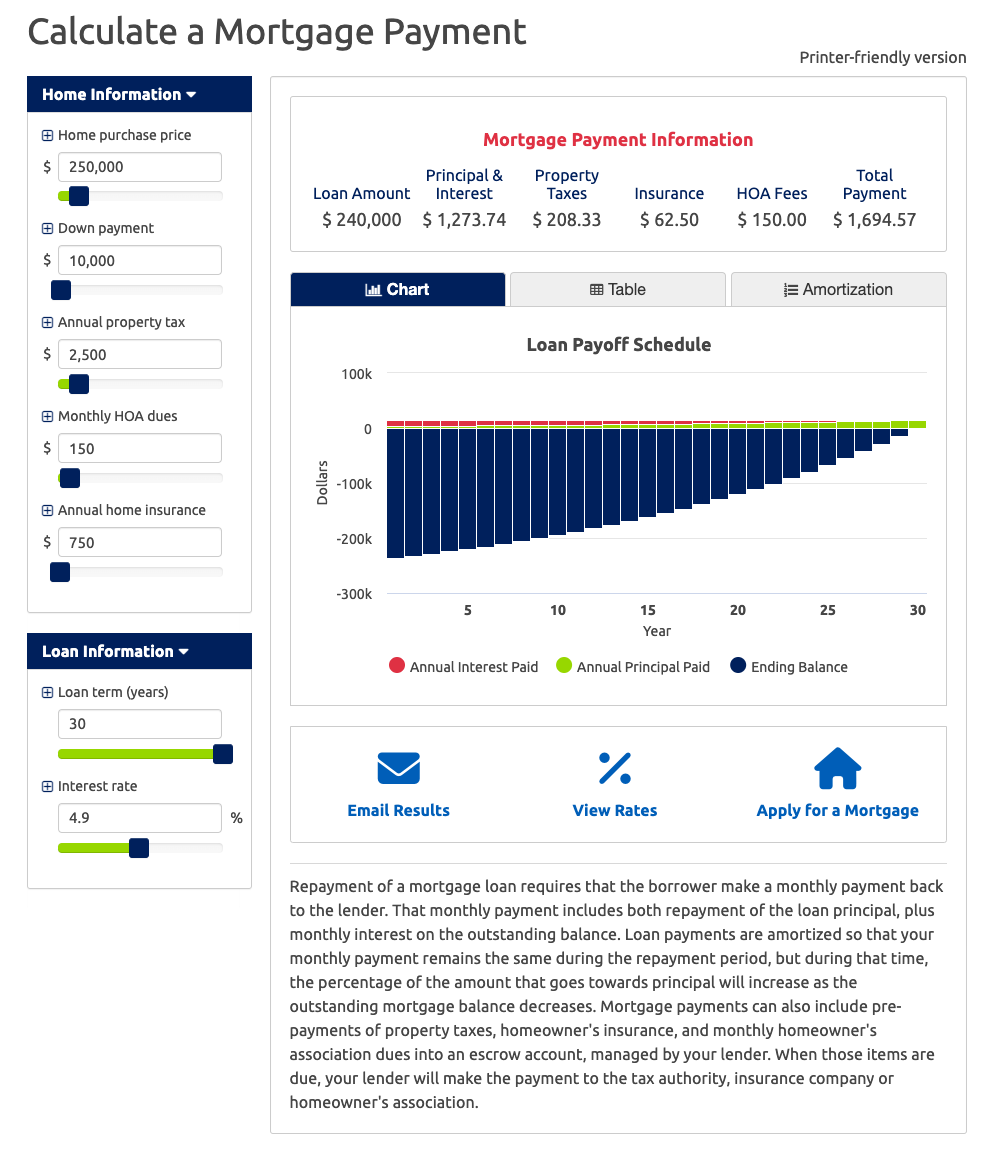 Again, knowing how much your monthly mortgage loan payment will be is important to understanding your overall financial well-being. Once this is calculated, you can better understand how much you will need to budget for each month and the overall breakdown of the monthly payment.
Looking for more financial calculators to help you during the home-buying process? We have plenty of tools to help you crunch the numbers for home affordability, down payments, home closing costs, and more.