Money Management
Managing your finances all in one place has never been easier.
Improve your financial well-being with our award-winning money and budget management tool.
Understanding your current financial picture is a key component in achieving financial clarity and improving your personal finances. Our Money Management tool helps you do just that. Connect, share, and control all of your accounts and loans in digital banking at no cost.
Money Management has a variety of features that provide you with a 360-degree view of your finances in a single location, giving you proactive and personalized insights broken down into different categories.
Accounts
The Accounts feature within Money Management allows you to track your finances more easily since all of your financial activity from Clearview and your external financial institutions' accounts is located in one place. You can view accounts by account type, add new accounts, delete obsolete accounts, hide accounts, and merge duplicate accounts all within this feature.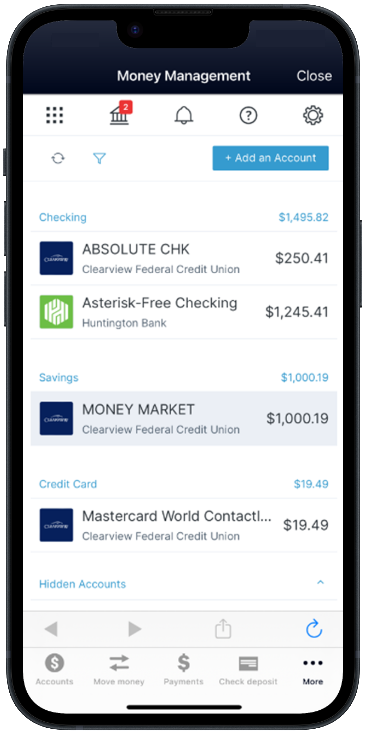 Transactions
The Transactions feature allows you to view an overview of your recent spending across all accounts. You can adjust the view for more or less history, search for and filter specific transactions, sort by date, payee, category, account, or amount, recategorize an expense, or provide meaningful tags and/or memos at the transaction level.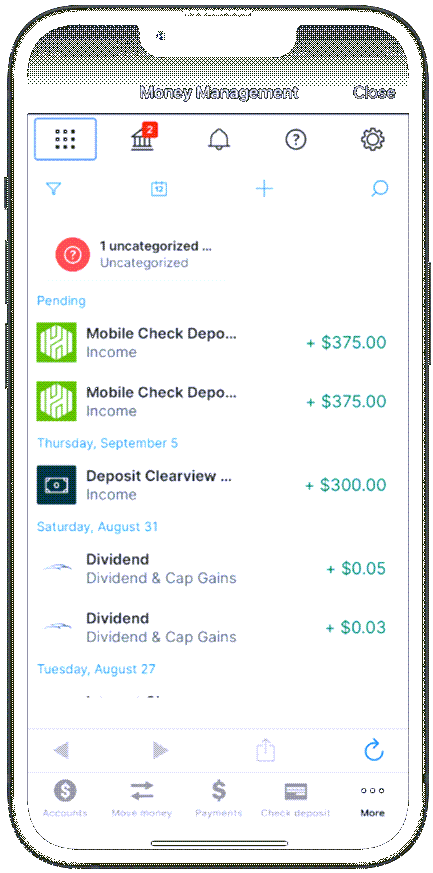 Spending
The Spending Chart feature allows you to quickly identify your biggest expenses by category. By selecting a specific category in the chart, you can view the transactions within that category. Visualizing your spending habits this way means you can easily stay on track and see where there may be holes in your budget to put your money to its best use.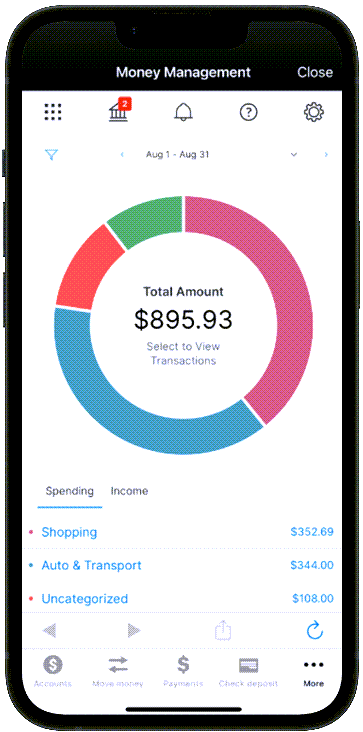 Budgets
The Bubble Budgets feature within Money Management lets you set realistic monthly spending limits and focus your attention where it's needed most. The colors of the bubbles represent the status of your budget: green indicates you're within your limit, yellow means you're approaching your limit, and red means you've gone over. The bigger the bubble, the larger the portion of your monthly budget is spent on the category. Budgets are generated based on your previous spending. If a budget doesn't seem right, you can always update or add new budgets that align with your expenses.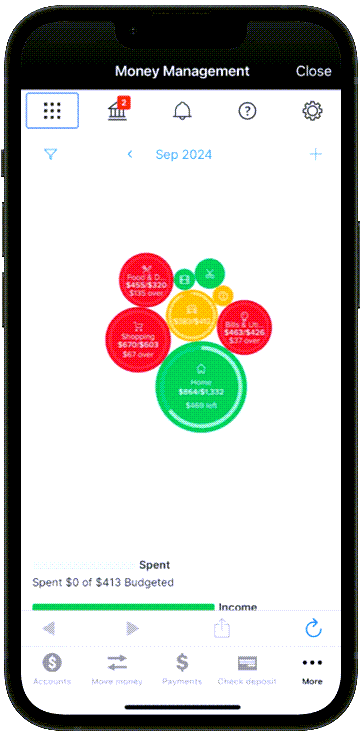 Trends
The Trends feature allows you to track spending in each category over the last 3, 6, 9, or 12 months. In just a few moments, you'll be able to see if you're living within your means and identify categories you need to work on.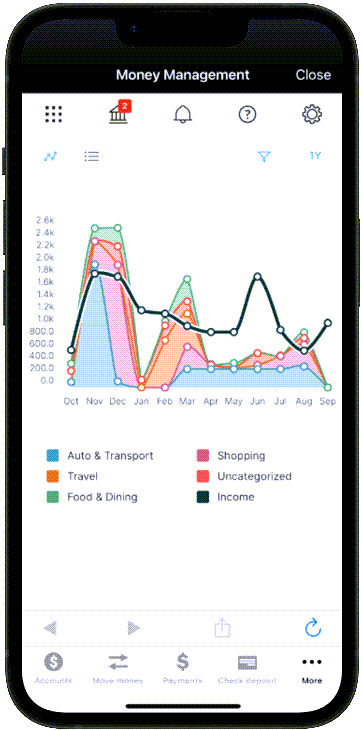 Debts
The Debts feature aggregates all of your debts in one place so you can see how to pay down your debt faster. You can prioritize certain debt payoffs, see how various payoff methods will affect your debt timeline, and see how adding money to your monthly payment will get you out of debt faster.
Net Worth
Money Management's Net Worth feature provides you the ability to track the net sum of all of your assets and liabilities. This way, you can monitor your overall financial progress and see what makes up your gains and losses.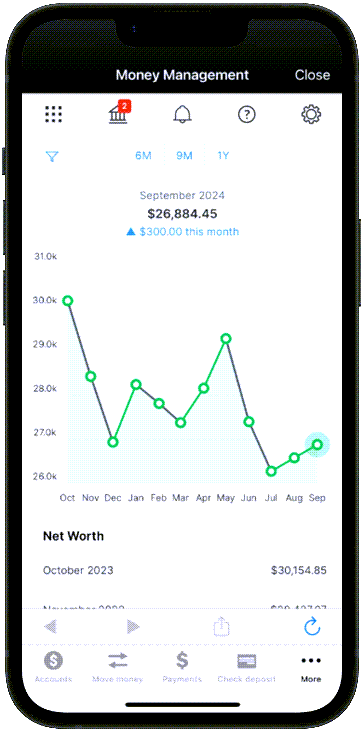 Goals
The Goals feature within Money Management allows you to set savings, debt, and retirement goals and visualize them on your goal timeline.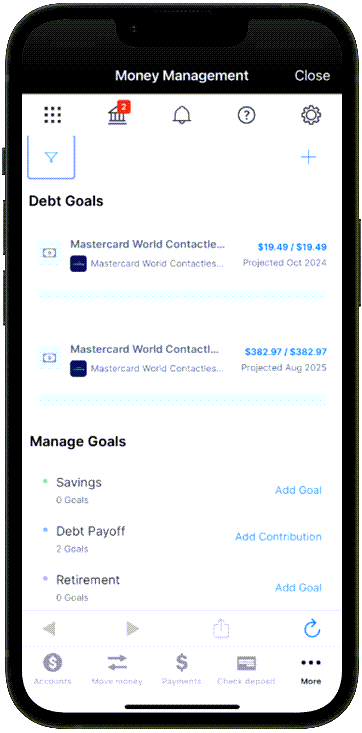 Cash Flow
The Cash Flow feature helps you understand your spending by looking at your transaction history and predicts your future spending by allowing you to easily identify recurring payments and deposits to see how they affect your future available cash.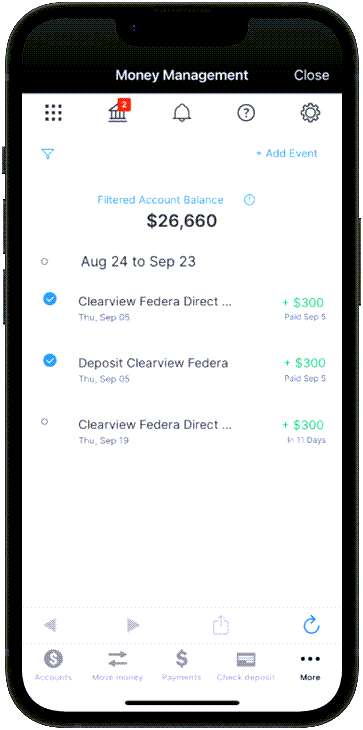 You can access Money Management for free in
digital banking
. It's available in online banking under Manage account and in the mobile app by going to More, then Manage account. Once you enroll and add your accounts you'll see all your external financial institutions' accounts and loans in online banking listed in the Outside Accounts section following your Clearview account information. Following this, in the Money Management section, you're able to view your bubble budgets and spending chart.
Still have questions about
Money Management
?
Yes. Your Money Management information is available only via secure access by using your digital banking User ID and password. The information is not public. Unless you share your password, no one else can access your Money Management information.
Sometimes it is not possible to systematically import important financial information due to a number of reasons (for instance, you paid off your home ten years ago or your external financial institution's information is not available to Money Management). In these kinds of situations, you are able to manually add an account to Money Management, which allows you to get a complete picture of your finances.
A "Broken" account is one with connection problems. It will be designated with a yellow exclamation mark above the external financial institution's logo. To resolve the connection:
Select the account.
Follow any given instructions.

You may need to update your credentials, refresh the connection, or do something else. In some instances, you may simply need to wait a day and try again.
If problems with an account continue:

Log in to the financial institution's online banking website to verify that your username and password are correct.
Make sure there are no holds on the account.
Don't try to add the same account twice as the system does not support this. Instead, you may wish to delete the institution, which will delete all accounts associated with the chosen financial institution.
The data available may not always indicate that account has been closed which causes paid-off loans or unused accounts to still appear.

You may choose to hide an account that you don't want displayed. This account will then appear grayed out at the bottom of your list of accounts.
Duplicate accounts may appear when existing account connections are altered, such as when a financial institution changes the way they name accounts in their system or when a lost or stolen credit card is replaced. When the account is relayed under a different name or identity than in the past, it's created as a new account. This type of duplication can be fixed by merging the account.
Recent transactions (i.e., transactions less than about four days old) may not show up in your transaction list. It may take several days for some transactions to be imported or to move from pending to posted.

If you just started using Money Management, you might not see all your transactions as we only pull in the last 90-days of your transaction history during your first login.

If it's been more than 30-days since your logged in, some transactions may not show up. Our recommendation is to use Money Management at least that often. After you first set things up, Money Management generally only pulls in between 30 and 45 days of your transaction history each time you log in.
Pending transactions may appear on your account, but they have not been fully posted or confirmed by Clearview. They are visible at the top of the transaction list in italics.

Pending transactions are editable, but any changes you make will not be saved when the transaction moves from pending to posted.

The date, description, or even the amount of a pending transaction may change when it fully posts.
If you can't find a category and you're sure you've spent money on it, check the "Other" group, which is colored gray. Money Management's goal is to give you a quick, easy-to-understand view of your overall spending so we place any spending category that represents less than 3% of your total spending in the "Other" group.​
Money Management supports more than 100 default categories. You can create as many subcategories as you like, but you are not able to create any new top-level categories.
Select your desired budget to bring up the budget details window.
Select "Transactions" to bring up a list of transactions in that category for the current month.
Money Management supports savings, debt payoff, and retirement goals.

With the manage goals feature, you can adjust the priority among your goals and change the size of your monthly contribution to the highest-priority goal.

Your monthly contribution, which is the amount of money you plan to allocate each month to an overall goal type, will be applied to whatever goal has the highest priority. When that goal is achieved, the contribution will be applied to the goal with the second-highest priority and so on.
Our recommendation is to start by setting up an emergency savings goal.

Saving $1,000 in an emergency-only account is a good start, but working towards 3-6 months of living expenses is even better.

A savings goal can only be tied to one account. In order to have multiple savings goals, you'll need to have multiple savings accounts.

For each savings goal, you designate the purpose for the goal (emergency fund, automobile, college, home, recreation, vacation, electronic, or other). Savings goals appear on the goals page with a green circle above the date when the goal is expected to be achieved.
If you've already connected a debt account to Money Management, goals will automatically pull in the information it needs to create a debt goal (including balance, APR and minimum payments).

Goals use your minimum payment information to automatically calculate the date the debt will be repaid, but you can add more to your contribution to pay things off sooner. Debt payoff goals appear on the goals page with a blue circle above the date when the goal is expected to be achieved.
Cash events are recurring or one-time income or expenses that affect your future cash flow.
Money Management alerts are notifications that can help you stay on track by keeping you notified of important events in your finances.

Money Management alerts are only sent to verified email addresses and/or mobile phone numbers.

Money Management notifications will be sent nightly with budget alerts grouped into one email and all other alerts sent via separate emails.
No, Money Management alerts are separate from the alerts and notifications that can be set up within digital banking. The email address and/or mobile phone number must be verified within the Money Management option.