Learn more about mobile wallet use, how they work, and how to set yours up.
Once upon a time, phones were used to call people. Then they became Internet-access devices, email tools, cameras, calendars, calculators, compasses, and flashlights. Now they've become mobile wallets, too. A mobile wallet is a digital way to store credit, debit, ID, and gift cards so that purchases can be made using a mobile smart device rather than a physical card.
Why is a mobile wallet useful?
Convenience
Most users rate this as the number one benefit. Our smartphones are with us at all times, so the convenience of not shuffling through an entire deck of plastic cards during checkout is appealing. Someone can even wear their mobile wallet by storing it in a smart watch or Fitbit®.
What's in your mobile wallet? A lot! Mobile wallets enable customers to store all credit, debit, ID, healthcare, gift, and loyalty cards; theater, bus, and train tickets; boarding passes; and hotel key cards all in one place. They can be used for online purchases, too.
Health risk reduction
Contactless mobile wallet payments reduce your risk of contracting COVID-19 or a myriad of other germs that live on payment surfaces.
Safer shopping
Mobile wallets offer better security than swiping your physical debit or credit cards.
When you swipe your card, the magnetic strip is easy to read by any magnetic scanner, which can leave it vulnerable to thieves stealing the card's information. A card swipe also transmits your card's actual information, which leaves it up for grabs for any hacker intercepting that info.
With your mobile wallet, every single transaction is encrypted, which means your actual card or accounts numbers are never shared with the merchant. Instead, mobile wallets use a Device Account Number (DAN) in place of actual account or card numbers. If a thief accesses the DAN, it would be completely useless to them and leave your accounts untouched.
Mobile wallets also add an extra layer of protection because you need to provide a personal identification format, such as a PIN, fingerprint or face recognition to access them.
Time savings
Mobile wallets offer customers a quicker way to complete purchases. They can help reduce lines and get customers on their way without a frustrating wait.
How is a mobile wallet created and how do you choose an app?
Setting up a mobile wallet is easy. Today, smart devices come with the most common apps preloaded. If you have an iPhone, for example, your phone will likely have the Wallet app already installed. The other prominent mobile wallet app options include Google Pay for Android phones and Samsung Pay for Samsung phones.
The setup for the major apps is simple: launch the app, take a photo of your card or enter its information, and follow the step-by-step instructions. This process is then repeated for all other cards entered.
How do mobile wallets work?
It's simple! If you see the contactless symbol on a vendor's contactless payment reader, all you have to do is open the mobile wallet app on your smart device, select a card to use, and then hold the device a few inches above the payment reader.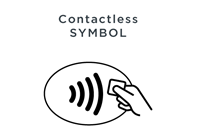 Look for the contactless symbol.

We're not a cashless society yet, but… according to the CIA's World Factbook, there are 422 million cell phone subscriptions in the United States today. By 2025, it's estimated that cell phones will account for more than 77% of all Internet-enabled devices; naturally, the demand for mobile financial services like mobile wallets will rise with this increase.
Add your Clearview debit or credit cards to your mobile wallet today!