Things to keep in mind when preparing your finances for retirement.
Deciding how much to save for your golden years is not a one size fits all answer. There are many factors to consider when developing a savings plan for retirement. Striking a balance between saving enough for a comfortable retirement and not surrendering too much of your income during your working years can be a difficult balance to achieve.
With that being said, exactly how much should you project to save for retirement years? What factors are going to contribute to determining your savings goal? Let's take a look at some questions to consider when figuring out how much to save for the future.
Determining how much to save for retirement
Our Save for Retirement calculator is a great tool to determine if you're on the right track to meet your retirement goals. To compute your retirement savings goal, the calculator takes a few factors into consideration:
Your current age
Your retirement age – This is the age you project to officially retire.
Annual household income – Your annual income from salary and investments on a pre-tax basis.
Needed retirement income – The percentage of your annual income that you expect to need for spending purposes during your retirement years.
Your retirement assets – This includes your current retirement accounts (personal or employer), monthly pension, or monthly Social Security.
Other assumptions – This includes your life expectancy, potential annual salary increases, expected rate of inflation, and annual rate of return you expect to receive on your investments and savings accounts.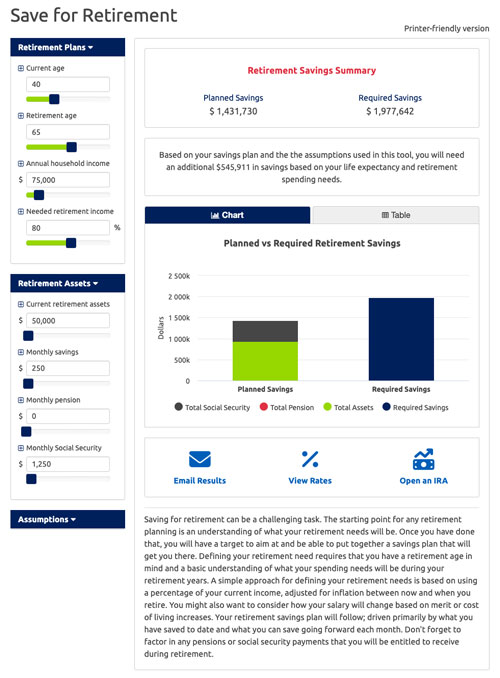 Remember, this calculator helps you compare your planned retirement savings to how much you may realistically need to retire. This will help put into perspective how much you need for the future and where you can adjust accordingly to hit your savings goal.
Determining how much to save for retirement can be a challenging, yet achievable feat. Understanding your retirement needs is the starting point for retirement planning. Once you've done that, you'll have a target to aim for where you can outline a savings plan to help you get there.
Planning for Retirement During Each Stage of Life
Those of us planning for retirement face a very different set of circumstances than we did a couple of decades ago.