Your credit score is an important part of your financial life.
It can determine a variety of things, like whether you get approved for a loan, or what the interest rate will be on your credit card. If you want to set yourself up for financial success, it's important to know and understand the different pieces that factor into your credit score.
What makes up your credit score
Credit bureaus calculate your score based on the data found in your credit report. While there are a few different scoring companies in the U.S., they all agree on the components that factor into your score.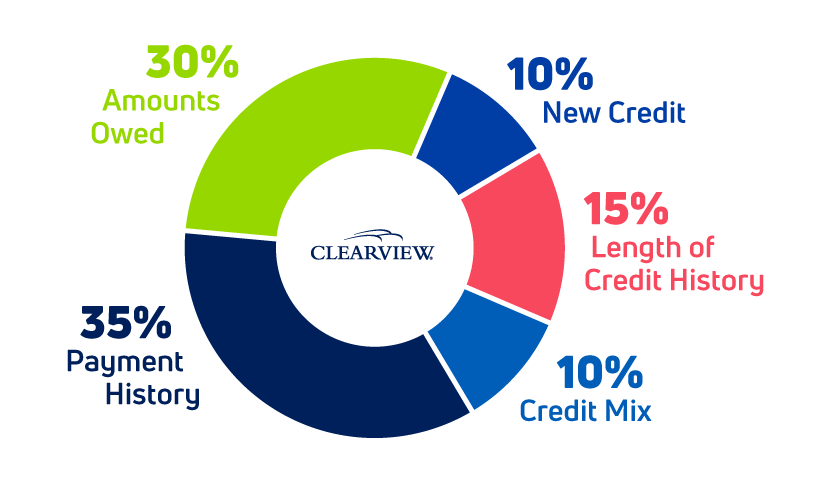 Payment history: Whether or not you pay your bills on time is a big factor in your score.
Credit utilization: If you use a large portion of your available credit limit, it may indicate to lenders that you're overextending your spending, which could mean that you're at a higher risk of defaulting on your payment. It's usually recommended that you keep your credit use under 30% of your total credit limit.
Length of credit history: In general, a longer credit history will increase your overall credit score.
Credit mix: Having a mix of loan types — personal loans, credit cards, and mortgages, for example — is good for your score! It's a sign to lenders that you can handle multiple payments.
New credit: If you have a lot of hard inquiries on your credit report in a short amount of time, that represents a greater risk to lenders, especially if you don't have a long credit history. Hard inquiries usually stay on your report for about two years, so be mindful when considering new credit types.
Where to get your credit score
It's a good idea to check the accuracy of your credit report and stay up to date on your credit score. Each of the three main bureaus are required to give you a free report every year via
annualcreditreport.com
, but you can also view your score for free at Clearview if you have an
Absolute Checking®
account.