Our commitment to accessibility.
No matter how you choose to do your banking with Clearview, we are committed to providing an accessible and barrier-free environment for everyone. Part of that commitment is implementing the recommendations of the Web Content Accessibility Guidelines as published by the Web Accessibility Initiative of the World Wide Web Consortium. If you find a part of the site that you feel does not conform to Level AA of the WCAG or if you're using assistive technology and are having difficulty, please contact us.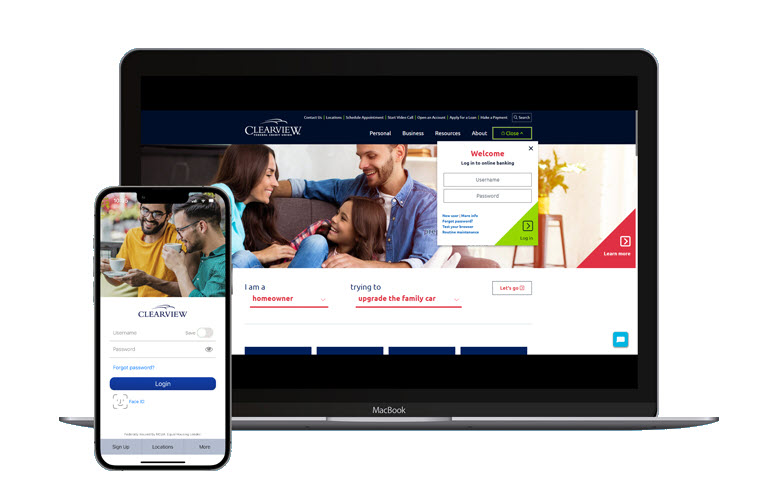 Accessible features include:
Mobile apps compatible with Android™ & iOS® accessibility software
Keyboard-accessible content
Color accessibility for users with vision impairments
Hierarchical headings to organize content
Online chat
Captioned videos
We recommend using the most current versions of Chrome, Safari, Firefox, or Edge. To improve your web experience, please review your operating system or browser's accessibility tools.



In Person
Stopping by? Take comfort knowing our financial centers meet ADA standards. If run into an issue during your visit, please let a team member know how they can assist.

ATMs and VTMs
Our ATMs and VTMs offer braille keypads and identifiers for receipt printer, cash dispenser, depositor, plus headphone jacks that provide voice guidance. Our VTMs also have a chat feature with on-screen keyboard.

Phone or web chat
Use the chat feature on our website to access our digital assistant, Claire, 24/7 or our staff during business hours. Prefer to call instead? Keypad options are available for those with speech impairments.

Auxiliary aids and services
We also offer a range of services to our members who may require them. These services include:
Reader services – Our personal representatives are happy to read and explain appropriate materials to members and consumers who want help opening accounts or conducting transactions. Stop by or call your local financial center.
Information reformatting – We can provide Clearview documents, including monthly statements, in alternative formats such as large print. Visit your local financial center or call 1-800-926-0003 to receive this service.
Guideline/raised-line checks – We offer our members Sight Checks, which are business-size checks with large type and raised lines for easy reading and check writing. For your convenience, a special register is automatically included at no charge in for all orders. You can order them like any other checks for your account(s).
Written notes – Our personal representatives can provide written communications for any member who needs assistance at a financial center.