Community Awards
As part of the city of champions, we know how to celebrate a win!
Honoring those who help others to enjoy a better life
At Clearview, we strive to make a positive impact in the communities we serve and recognize those who do the same. Throughout the year, we present a variety of awards to local organizations and individuals that make a difference. Keep reading to view this year's recipients and keep an eye on our social media accounts for upcoming award opportunities!
23rd Annual Ralph B. Canterbury Scholarship
In 2022, we selected ten outstanding students to receive $1,500 scholarships. The scholarship recipients represent a diverse group of outstanding student leaders. "While we know these students' high school or collegiate careers may not be what they envisioned due to the effects of the pandemic, they continued to excel," said Ron Celaschi, Clearview President/CEO. "We are pleased to have the chance to acknowledge all of the hard work and accomplishments of this year's winners.&quot
Read the Ralph B. Canterbury Scholarship press release
.
Image Gallery
23rd Annual Ralph B. Canterbury Scholarship Winners with Clearview's Board of Directors
The scholarships are named in honor of Ralph B. Canterbury, former Clearview President and CEO, for his service and loyalty during his 34-year tenure. Since its inception, the Ralph B. Canterbury scholarship has provided over $230,000 to students across Pennsylvania. Recipients are chosen based on their personal goals, activities and community involvement, outstanding academic performance, and a video. Applications for this scholarship are accepted annually beginning in January.
15th Annual Joseph C. Cirelli Community Service Award
Our 2022 Joseph C. Cirelli Community Service Award winner, Harold Hicks, is not only a dedicated volunteer – he and his late wife Patti founded The Miracle League of Western Pennsylvania. Harold considers all the players in the league his family, and he works tirelessly to ensure opportunities for them to succeed. Over 500 special needs individuals, both adults and children were able to experience team sports during the 2021-2022 season thanks to his efforts. He is easy to spot at all Miracle League activities; in addition to announcing all the players at games, Harold also spends time teaching participants good citizenship and sportsmanship skills.
Read the Joseph C. Cirelli Community Service Award press release
.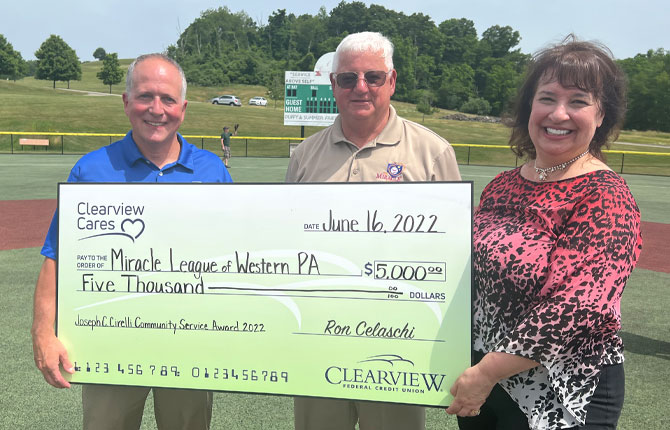 Know a deserving volunteer?
This award is named in honor of former Clearview President and CEO, Joseph C. Cirelli, for his commitment to volunteerism during his 35 years of service. Each year, we present the award to an exceptional volunteer of a local 501(c)(3) nonprofit organization. The winner gets to select a charity that we award $5,000 in recognition of their outstanding volunteer efforts. Entries for this award are accepted annually starting in April.
Employee Giving
Clearview employees who contribute to our employee giving program are entered into a quarterly raffle to select a 501(c)(3) charity to donate $1,000. Here are our most recent winners with their selected charities.