How to Decide Where to Sell Your Stuff
As we continue shopping and gifting this time of year, a whole lot of new stuff appears in our homes. That can be really fun, but it can also get cluttered…fast.
The New Year is often a great time to purge the things you no longer use, so you can get organized and focus on completing at least some of those New Year's Resolutions.
Rather than throwing your old stuff in the trash, consider donating it, or selling it and stashing the profits away in your savings. If you choose to sell your stuff, you'll have to decide which method of sale is best for your situation.
Click to expand the infographic below
(originally featured on our
Financial Resource Center
), and figure out which method will work best for you. That way, you can make top dollar without wasting time doing it.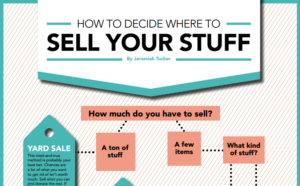 Good luck making sales and getting organized!
*For more ways Clearview can help organize your home and your finances for the New Year, visit clearviewfcu.org.