Helping you to enjoy a better life.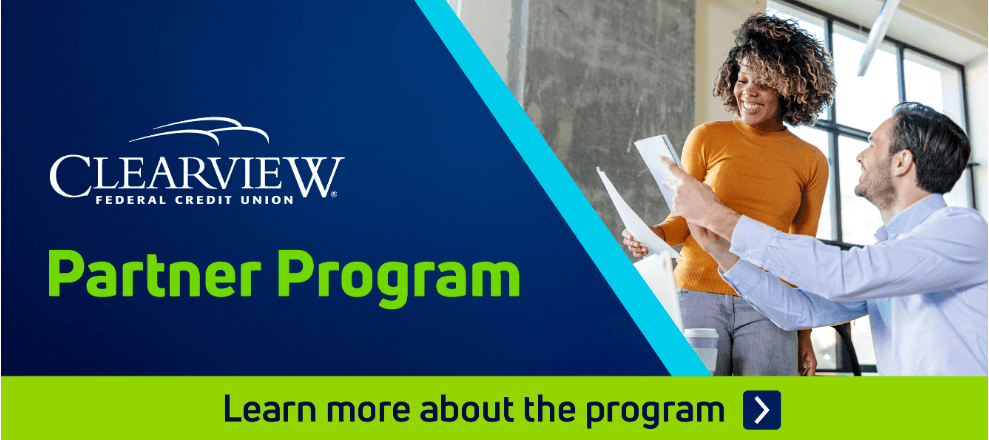 Hi there! This is your partner newsletter that we like to send as a reminder of all the benefits your organization has access to as a Clearview partner. Please forward to everyone in your organization so they don't miss out!
You can use the button below to share this newsletter with your employees, volunteers, members, etc. We ask that you please only share this info in a closed group where the members are involved with your organization and not the general public. Thank you!
Share this email:
Now's the time
to make the switch!
You can join the Clearview family any time, but right now you can earn up to $500 when you open a checking account with us! Use promo code switch.
Get the offer details
The winner of our

Joseph C. Cirelli community service

award is...

Congratulations to Robin Redfern, founder and devoted volunteer of Bags & Blessings, who received this year's $5,000 donation! Robin epitomizes Bags & Blessings' mission to help bring hope and love to individuals undergoing cancer treatments through gift bags of care items. In 2008, while dealing with her own cancer diagnosis, Robin was given a gift back in a moment that she felt like giving up. After going into remission in 2010, it became her goal to bring the same feeling of hope and possibility to other going through treatment.

Clearview is proud to recognize the good work that organizations and volunteers alike are doing to help our neighbors enjoy a better life in honor of Joseph C. Cirelli, our former President & CEO. Mr. Cirelli passed away unexpectedly last month and our entire Clearview family is saddened by his loss. Joe was a tremendous proponent of assisting people through volunteerism, which is why we established our Joseph C. Cirelli community service award in his name following his retirement in 2004. Clearview will continue to seek out and honor the outstanding helpers in our community and preserve his legacy of community service for many years to come.
What being part of the

Clearview Partner Program

means for you.
When you open an account with Clearview, that makes you a member, giving you access to these Clearview Partner Program benefits:
Access to onsite or virtual instructor-led training for a group or one-on-one instruction
We automatically add $10 to your savings account
Experience our premium Absolute Checking® account with no fees for a year, a $60 value1
Earn 0.33% more when you open a new certificate2
0.25% discount when a loan is automatically paid from a Clearview checking account3
When you apply online, be sure to select your company to qualify for these Clearview Partner Program benefits.
Funding Your

Summer Road Trip
Whether you're looking forward to spending time with family, getting outdoors, or taking a road trip – some of your biggest plans likely need a car to get you where you want to go this summer.
Here are a few quick tips to help you prepare for this big purchase:
Create a budget to determine how much car you can afford. Remember, you will need to pay not just the deposit and monthly auto loan, but also insurance, gas, and all of your day to day expenses.
Check your credit score, and see if you can increase your credit score while you save for your new car.
And finally, learn the ins and outs of taking out a new car loan.
We're here to help you with your car buying journey with our interactive course:
Get in gear
Have you checked your

coverage lately

?
National Insurance Awareness Day was in June, but it's always a good time to check that the insurance coverage you have is what you need and that you're not paying too much! Clearview Insurance Services offers insurance options from auto to home and even wedding and pet insurance. We can help you feel protected and we're seeing an average savings of $635 per year!*
Want to see how much you could save? Get a free quote today online or call 833-331-0013.
Get a Quote
1. Available only to new overall membership accounts that are affiliated with a Clearview Partner Program organization with an Absolute Checking® account. Also available to existing overall membership accounts without a checking product. After one year, maintain a $10,000 combined balance among all your Clearview deposits (savings, checking, IRAs and certificates), a $20,000 combined balance of your deposits and loans or deposit $5,000 or more in total direct deposits during the month and the $5.00 monthly fee ($2.00 for members age 25 and under) will be waived.
2. 100% new money for new members, existing Clearview members need 50% new money to get rate increase. Cannot be combined with any other offer or promotional rate.
3. Excludes Indirect Auto Loans. Cannot be combined with any other loan offer.
© 2021 Clearview Federal Credit Union. All Rights Reserved.