Helping you to enjoy a better life.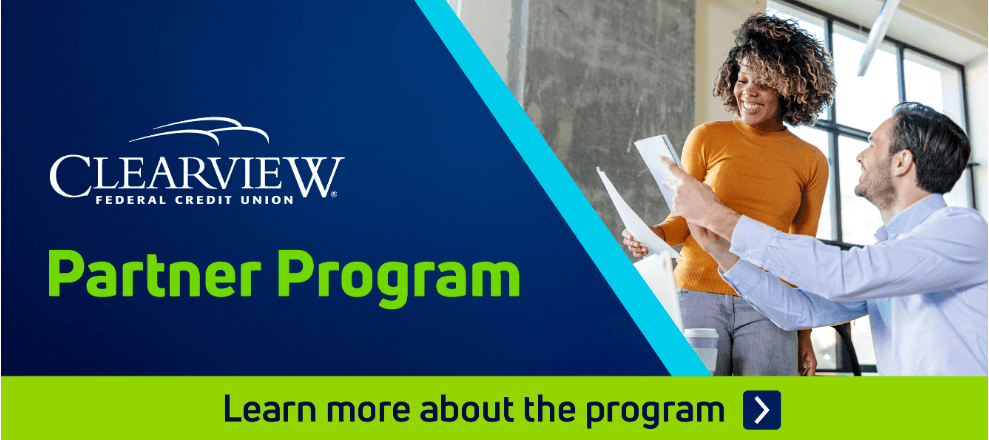 Hi there! This is your partner newsletter that we like to send as a reminder of all the benefits your organization has access to as a Clearview partner. Please forward to everyone in your organization so they don't miss out!
You can use the button below to share this newsletter with your employees, volunteers, members, etc. We ask that you please only share this info in a closed group where the members are involved with your organization and not the general public. Thank you!
Share this email:
Who couldn't use a little

extra cash

?

You can join the Clearview family any time, but right now you can

earn up to $500

when you open a checking account with us! Use promo code

switch

.

Get the offer details
Yinzer 4.12K for Light of Life

Clearview was proud to be a sponsor of the Light of Life Rescue Mission's Yinzer 4.12K this past weekend. Nearly 700 participants came together for the worthy cause and raised $86,000! All proceeds benefit the Light of Life Rescue Mission so they're able to continue being a place where hope and healing meet for men, women, and families experiencing homelessness, poverty, or addiction. Our relay team had a blast representing Clearview and showing our fun-loving spirit!
What being part of the

Clearview Partner Program

means for you.
When you open an account with Clearview, that makes you a member, giving you access to these Clearview Partner Program benefits:
Access to onsite or virtual instructor-led training for a group or one-on-one instruction
We automatically add $10 to your savings account
Experience our premium Absolute Checking® account with no fees for a year, a $60 value1
Earn 0.33% more when you open a new certificate2
0.25% discount when a loan is automatically paid from a Clearview checking account3
When you apply online, be sure to select your company name to qualify for these Clearview Partner Program benefits.
See other benefits
Have you had

"the talk"

with your family?
Money can be a difficult thing to talk about – but having proactive, honest conversations about money within your family can help reduce stress and improve the financial capability of generations to come.
Explore our online financial education lessons
online financial education lessons
to learn more about:
Identifying the appropriate family members to include
Strategies to make conversations productive
How to develop an action plan to create positive financial behaviors
Key topics including credit cards, budgeting, and building healthy financial habits
Get started
National

Financial Awareness

Day
Financial awareness is key for helping people to enjoy a better life, which is what we're all about! August 14 was National Financial Awareness Day, so even though we like to talk about it all the time, we want to take this opportunity to remind you of the education resources you have at your fingertips.
One of the many resources in our toolkit is our Financial Wellness Plan. After answering some questions about your current financial picture and your goals, we can offer specific solutions to help you on your journey.
Check it out
1. Available only to new overall membership accounts that are affiliated with a Clearview Partner Program organization with an Absolute Checking® account. Also available to existing overall membership accounts without a checking product. After one year, maintain a $10,000 combined balance among all your Clearview deposits (savings, checking, IRAs and certificates), a $20,000 combined balance of your deposits and loans or deposit $5,000 or more in total direct deposits during the month and the $5.00 monthly fee ($2.00 for members age 25 and under) will be waived.
2. 100% new money for new members, existing Clearview members need 50% new money to get rate increase. Cannot be combined with any other offer or promotional rate.
3. Excludes Indirect Auto Loans. Cannot be combined with any other loan offer.
© 2021 Clearview Federal Credit Union. All Rights Reserved.