Helping you to enjoy a better life.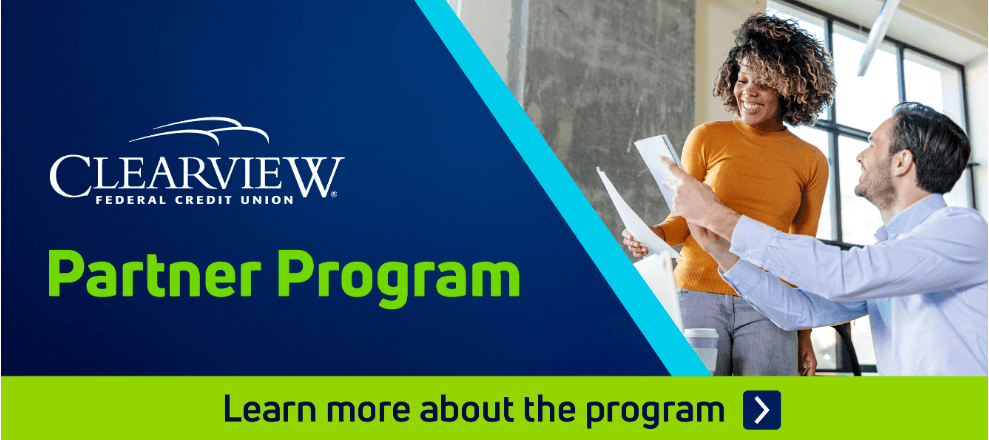 * APR = Annual Percentage Rate. Payments to your credit card will be posted according to applicable laws. Balance transfers may not exceed your available credit. 0% APR offer applies to transfers processed by October 31, 2021. These transfers will receive 0% APR until the December 2022 cycle date. A 4% transfer fee on the transferred balance will apply. Rate is subject to change without notice. Offer may be extended, modified or discontinued at any time. Clearview loans and credit card balances are not eligible for the discounted balance transfer rate. All loan approvals are subject to normal underwriting guidelines. You must be at least 18 years old to apply.
View
promotional credit card terms and information.
1. Available only to new overall membership accounts that are affiliated with a Clearview Partner Program organization with an Absolute Checking® account. Also available to existing overall membership accounts without a checking product. After one year, maintain a $10,000 combined balance among all your Clearview deposits (savings, checking, IRAs and certificates), a $20,000 combined balance of your deposits and loans or deposit $5,000 or more in total direct deposits during the month and the $5.00 monthly fee ($2.00 for members age 25 and under) will be waived.
2. 100% new money for new members, existing Clearview members need 50% new money to get rate increase. Cannot be combined with any other offer or promotional rate.
3. Excludes Indirect Auto Loans. Cannot be combined with any other loan offer.
© 2021 Clearview Federal Credit Union. All Rights Reserved.