Helping you to enjoy a better life.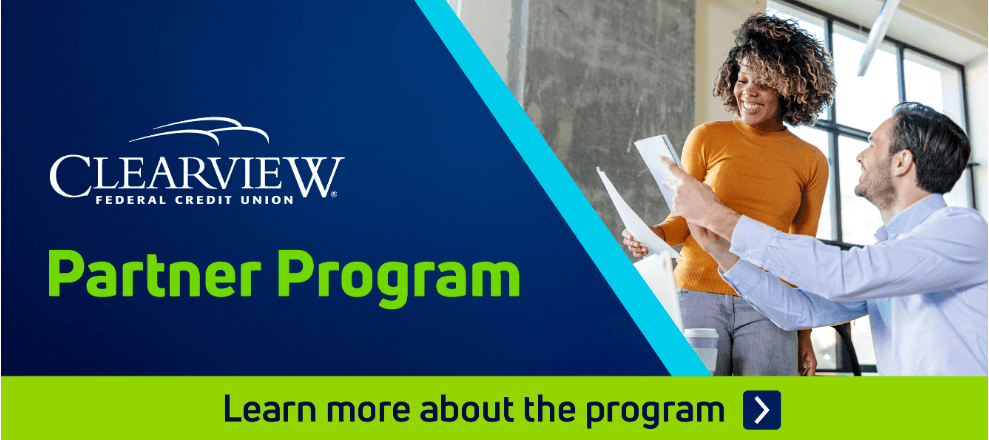 Hi there! This is your partner newsletter that we like to send as a reminder of all the benefits your organization has access to as a Clearview partner. Please forward to everyone in your organization so they don't miss out!
You can use the button below to share this newsletter with your employees, volunteers, members, etc. We ask that you please only share this info in a closed group where the members are involved with your organization and not the general public. Thank you!
Share this email:
Happy

Retirement

to Maria!
You may have had the pleasure of working with Maria Pirro over the past several years, so we wanted to share her good news. Maria will be retiring on April 1 after 15 years of service at Clearview. She's been an essential part of our Relationship Development team and we'll miss her kind heart and ambitious spirit.
Thank you, Maria, for all of your hard work and meaningful connections you've made with so many of our partners. We wish you the best!
Did you register for

LifeCents?
The response to our new LifeCents financial literacy program has been unbelievable! You asked for this resource for your employees and we're happy to provide this tool at no charge as an exclusive benefit of our partnership. In only our first month, we received many comments about how easy it is to navigate and the wealth of information available for employees to review. Not only is there a lot of great info, it's presented in a way to make learning fun with videos, articles, and worksheets.
Haven't tried it yet? Join in the fun at
cppemployees.lifecents.com
and select Sign Up to get started!
Register today!
Last chance for our awesome

balance transfer offer
When you're approved for a Clearview Platinum Mastercard
®
, you can take advantage of 6.49% APR* on all new purchases through December 31, 2022. Plus n
ow through March 31, 2022
, you can transfer balances from other cards for
no fee and 6.49% APR** for the life of the transfer!
Additionally, you can expect:
No annual fee
25-day grace period on purchases
Emergency cash and card replacement
Instant issue cards available at select locations
What being part of the

Clearview Partner Program

means for you.
When you open an account with Clearview, that makes you a member, giving you access to these Clearview Partner Program benefits:
Access to our financial wellness program, Haven't tried it yet? Join in the fun at LifeCents, which is designed to personalize financial guidance and education at no cost to you
Access to onsite or virtual instructor-led training for a group or one-on-one instruction
We automatically add $10 to your savings account
Experience our premium Absolute Checking® account with no fees for a year, a $60 value1
Earn 0.33% more when you open a new certificate2
0.25% discount when a loan is automatically paid from a Clearview checking account3
When you apply online, be sure to select your company name to qualify for these Clearview Partner Program benefits.
Apply now
Earn up to

$500!
You can join the Clearview family any time, but right now you can
earn up to $500
when you open a checking account with us! Use promo code
switch
.
Get the offer details
The ins and outs of

building good credit.
For lots of people, the three digits making up your credit score are filled with mystery. How long do late payments stay on it? Is paying off a credit card account and closing it good or bad? And how high does it really need to be to afford the house you want?
Understanding how credit scores and reports work is an important step in your financial journey. Building positive credit and avoiding hits when possible can help you achieve your goals such as buying a home, leasing a car, or paying off debt.
Our short lessons include information about:
The types of institutions and companies that may use your credit score
The importance of credit, how to monitor credit, and how to improve and maintain your existing credit
Develop healthier credit habits
*APR = Annual Percentage Rate. Payments to your credit card will be posted according to applicable laws. The 6.49% APR will be in effect until December 31, 2022, at which time the rate will then revert to your standard variable rate. Standard variable rate based on creditworthiness. Promotional period is effective from October 1, 2021 until December 31, 2022. Clearview Business credit cards are excluded. All loan approvals are subject to normal underwriting guidelines and may require a co-signer. You must be at least 18 years old to apply.
** APR = Annual Percentage Rate. Payments to your credit card will be posted according to applicable laws. Balance transfers may not exceed your available credit. 6.49% APR offer applies to transfers processed by March 31, 2022. These transfers will receive 6.49% APR until the transferred balance is paid in full. Rate is subject to change without notice. Offer may be extended, modified or discontinued at any time. Clearview loans and credit card balances are not eligible for the discounted balance transfer rate. All loan approvals are subject to normal underwriting guidelines. You must be at least 18 years old to apply. View promotional credit card terms and information.
1. Available only to new overall membership accounts with an active Business (affiliation) Partner as the member's employer and they open an Absolute Checking
®
account. Also available to existing overall membership accounts without a checking product. After one year, maintain a $10,000 combined balance among all your Clearview deposits (savings, checking, IRAs and certificates), a $20,000 combined balance of your deposits and loans or deposit $5,000 or more in total direct deposits during the month and the $5.00 monthly fee ($2.00 for members age 25 and under) will be waived.
2. 100% new money for new members, existing Clearview members need 50% new money to get rate increase. Cannot be combined with any other offer or promotional rate.
3. Excludes Indirect Auto Loans. Cannot be combined with any other loan offer.
© 2022 Clearview Federal Credit Union. All Rights Reserved. This email was sent to you by Clearview Federal Credit Union located at 8805 University Blvd, Moon Township, PA 15108. Federally insured by NCUA. Equal Housing Lender.