Helping you to enjoy a better life.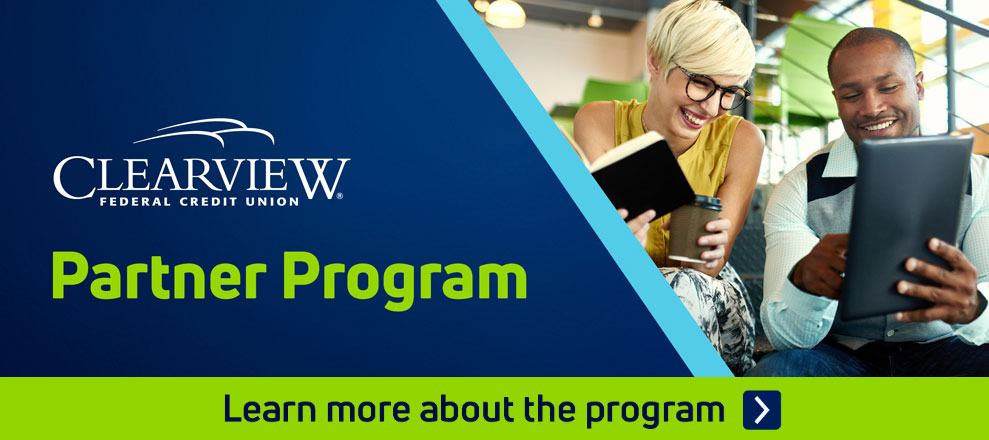 Hi there! This is your partner newsletter that we like to send as a reminder of all the benefits your organization has access to as a Clearview partner. Please forward to everyone in your organization so they don't miss out!
You can use the button below to share this newsletter with your employees, volunteers, members, etc. We ask that you please only share this info in a closed group where the members are involved with your organization and not the general public. Thank you!
Share this email:
The Ins and Outs of

Buying a Home
Deciding to buy a home is an amazing, exciting milestone. The actual mortgage application process that follows, on the other hand, is not. Buying a home is one of the most expensive decisions you'll ever make, and that can be overwhelming and stressful.
We can help you prepare yourself to understand the lingo associated with different steps (escrow, mortgages, and more), and feel confident on every stage of your homebuying journey. Here are some topics to start:
The many steps involved in homebuying
Understanding different types of mortgages, what they are, and which is right for you
Calculating and preparing for initial and ongoing costs
Determining your overall financial readiness for homeownership
We're here to help you with your homebuying journey.
Download our guide
We have

A+ student lending solutions!
There's an easier way to pay for college. Our
Student Loan Center
has the resources you need to finance you or your loved one's undergraduate endeavors.
We're proud to offer our members a valuable student lending solution with our private education line of credit, where you can secure funding for your entire undergraduate career with just one application!*

Need help getting started? Our Guide to Financial Aid can help you learn more about how to responsibly fund your college education with important information such as types of student loans available, the difference between fixed and variable interest rates, and much more.


Start your journey
Did you register for

LifeCents?
The new LifeCents financial literacy program continues to be a hit! This program provides a wealth of financial literacy information in an easy to use format with various fun videos, articles, and worksheets. We're so happy to provide this tool at no charge as an exclusive benefit to our partnership.
Haven't tried it yet? Join in the fun at
cppemployees.lifecents.com
and select Sign Up to get started!
Register today
What being part of the

Clearview Partner Program

means for you.
When you open an account with Clearview, that makes you a member, giving you access to these Clearview Partner Program benefits:
Access to our financial wellness program, LifeCents, which is designed to personalize financial guidance and education at no cost to you
Access to onsite or virtual instructor-led training for a group or one-on-one instruction
We automatically add $10 to your savings account
Experience our premium Absolute Checking® account with no fees for a year, a $60 value1
Earn 0.33% more when you open a new certificate2
0.25% discount when a loan is automatically paid from a Clearview checking account3
When you apply online, be sure to select your organization to qualify for these Clearview Partner Program benefits.
Apply now
Earn up to

$500!
Earn up to $500
when you open a checking account with us now and join the Clearview family! Use promo code
switch
.
Get the offer details
11 Cares Hard to Recycle Collection
On June 4, nearly 900 people signed up for the 11 Cares Hard to Recycle Collection in partnership with the Pennsylvania Resources Council and Allegheny County Health Department.

The purpose of the event was to give attendees a place to get rid of items that cannot be left on a curb. Items such as tires, flat screen TVs, video game consoles, cell phones, and much more, were accepted and recycled.

Clearview is one of the sponsors of 11 Cares.
2022 Annual Meeting Summary
On Thursday, June 2, Clearview's Board of Directors hosted the 2022 Annual Meeting as a hybrid event, both in person at the DoubleTree Pittsburgh Airport and virtually. In addition, recipients of our 2022 Ralph B. Canterbury Scholarship and our 2022 Joseph C. Cirelli Community Service Award were announced. Be on the lookout — we'll be featuring more about these winners in next month's newsletter!
To learn more or if you'd like to revisit this year's event, you can watch a
recording of the meeting
or check out the
2021 Clearview Annual Report
.
*Subject to annual review and credit qualification. Must meet school's Satisfactory Academic Progress (SAP) requirements.
1. Available only to new overall membership accounts with an active Business (affiliation) Partner as the member's employer and they open an Absolute Checking
®
account. Also available to existing overall membership accounts without a checking product. After one year, maintain a $10,000 combined balance among all your Clearview deposits (savings, checking, IRAs and certificates), a $20,000 combined balance of your deposits and loans or deposit $5,000 or more in total direct deposits during the month and the $5.00 monthly fee ($2.00 for members age 25 and under) will be waived.
2. 100% new money for new members, existing Clearview members need 50% new money to get rate increase. Cannot be combined with any other offer or promotional rate.
3. Excludes Indirect Auto Loans. Cannot be combined with any other loan offer.
© 2022 Clearview Federal Credit Union. All Rights Reserved. This email was sent to you by Clearview Federal Credit Union located at 8805 University Blvd, Moon Township, PA 15108. Federally insured by NCUA. Equal Housing Lender.