Community Awards
As part of the city of champions, we know how to celebrate a win!
Honoring those who help others to enjoy a better life
At Clearview, we strive to make a positive impact in the communities we serve and recognize those who do the same. Throughout the year, we present a variety of awards to local organizations and individuals that make a difference. Keep reading to view this year's recipients and keep an eye on our social media accounts for upcoming award opportunities!
22nd Annual Ralph B. Canterbury Scholarship
In 2021, we selected ten outstanding students to receive $1,500 scholarships. The scholarship recipients represent a diverse group of outstanding student leaders. Ron Celaschi, Clearview's President/CEO, said "While we know these last two school years have not been what any of them have envisioned for their high school or collegiate careers, we are pleased to have the chance to acknowledge all of the hard work and accomplishments of this year's winners."
Read the Canterbury Scholarship press release
.
The scholarships are named in honor of Ralph B. Canterbury, former Clearview President/CEO, for his service and loyalty during his 34-year tenure. Recipients are chosen based on their personal goals, activities and community involvement, outstanding academic performance, and an essay on why they choose to belong to Clearview.
Applications for the 23rd Annual Ralph B. Canterbury scholarship are now being accepted,
apply today
.
Tee It Up for Charity at the 35th Annual Golf Outing
Our 35th annual golf outing in August 2021 featured the Tee It Up for Charity contest, which helped benefit Pittsburgh area nonprofit organizations. The 2-day event was held at Beaver Valley Golf Club and netted a total of $10,000, of which $5,000 will support Alina's Light, the Tee It Up for Charity winner, as well as Greater Pittsburgh Community Food Bank, one of Clearview's charitable partners.
Read the Tee It Up for Charity press release
.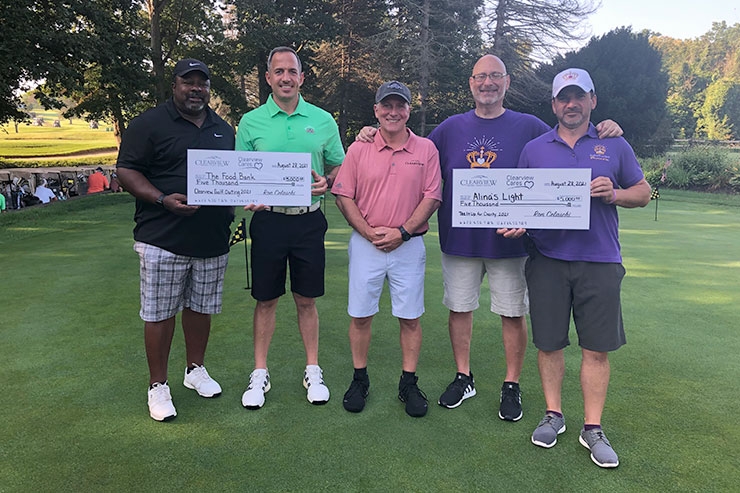 To participate in Tee It Up for Charity, nonprofit organizations must create a one-minute video submission featuring a heartfelt description of their mission. The top 10 videos are voted on by Clearview members and the public over a 10-day period, with the winning nonprofit receiving a check for $5,000 at our annual golf outing.
14th Annual Joseph C. Cirelli Community Service Award
Our 2021 award presentation was especially bittersweet due to the passing of its namesake, Joseph C. Cirelli, whose commitment to volunteerism inspired this award. Our most recent winner, Robin Redfern, is a deputy sheriff, dedicated volunteer, and founder of Bags & Blessings. The vision for her organization started when she was dealing with her own cancer diagnosis. After going into remission in 2010, Robin started Bags & Blessings in her kitchen. The goal of Bags & Blessings is to help people who are going through treatment for cancer by providing wellness and self-care items to help heal their bodies and their spirits.
Read the Cirelli Community Service Award press release
.
Know a deserving volunteer?
Since its inception, the annual The Joseph C. Cirelli Community Service Award is named in honor of Joseph C. Cirelli, former President and CEO of Clearview Federal Credit Union, who served the Credit Union for 35 years. This award is presented annually to an exceptional volunteer at a local 501(c)(3) nonprofit organization. The winner gets to select a charity that we award $5,000 in recognition of their outstanding volunteer efforts. Entries for this award are accepted annually starting in April.
Employee Giving
Clearview employees who contribute to our employee giving program are entered into a quarterly raffle to select a 501(c)(3) charity to donate $1,000. Here are our most recent winners with their selected charities.