Clearview Federal Credit Union ribbon-cutting ceremony celebrates opening of first financial center
Celebration includes announcement of mural project with Boys and Girls Clubs of Western PA.
Pittsburgh, PA, March 17, 2022…
(
clearviewfcu.org
) Clearview Federal Credit Union recently celebrated its expansion to the Shadyside neighborhood with a ribbon-cutting and an exciting new partnership announcement with the Boys and Girls Clubs of Western PA at their newest financial center.
Representatives from from Senator Bob Casey and Congressman Mike Doyle's offices, community representatives from the Boys and Girls Clubs of Western PA and Light of Life Rescue Mission, Clearview board members, executive leadership, and staff were present at the event.
Clearview Federal Credit Union chose the Shadyside neighborhood for its newest location as the solutions that the credit union offers its members are conducive to the on-the-go lifestyle of the Shadyside area.
Features of the Shadyside Financial Center are as follows:
A dedicated space for members to easily access Clearview Live® Video Banking.
A secured vestibule area that provides after-hours access to ATMs and video tellers.
An open floor plan with an inviting atmosphere to interact with staff during business hours.
At the celebration, attendees toured the financial center and learned about the technology featured at the location. In addition, there was an unveiling of a mural project with the Boys and Girls Clubs of Western PA during the ceremony. This project will provide beatification for the clubhouse located in the Shadyside neighborhood. Attendees were also treated to a lunch from the Light of Life Rescue Dogs food truck. In addition, 175 meals were delivered to Ronald McDonald House, Women's Center and Shelter of Greater Pittsburgh, and Family House.
"Boys and Girls Clubs of Western PA is thrilled to partner with Clearview Federal Credit Union on this mural and in the future. We believe that investing in our region's youth is a worthy endeavor because the youth are the future of our region," said Jessi March, Interim Vice President of Advancement & Philanthropy. "We will continue to offer high-quality programming that makes it possible to invite every child into the adventure of learning, and this is possible because of partners like Clearview."
"Clearview is new to the neighborhood but not the region. We are excited to expand the reach of our financial center locations to include the city of Pittsburgh," said Ron Celaschi, President & CEO. " It's a wonderful opportunity to expand our growth to serve the financial needs of the Shadyside neighborhood's on-the-go lifestyle. Clearview values itself as a true community partner, and we are proud of the collaboration with the Boys and Girls Clubs for the beautification and mural project. We look forward to a continued relationship with this organization and the Shadyside community."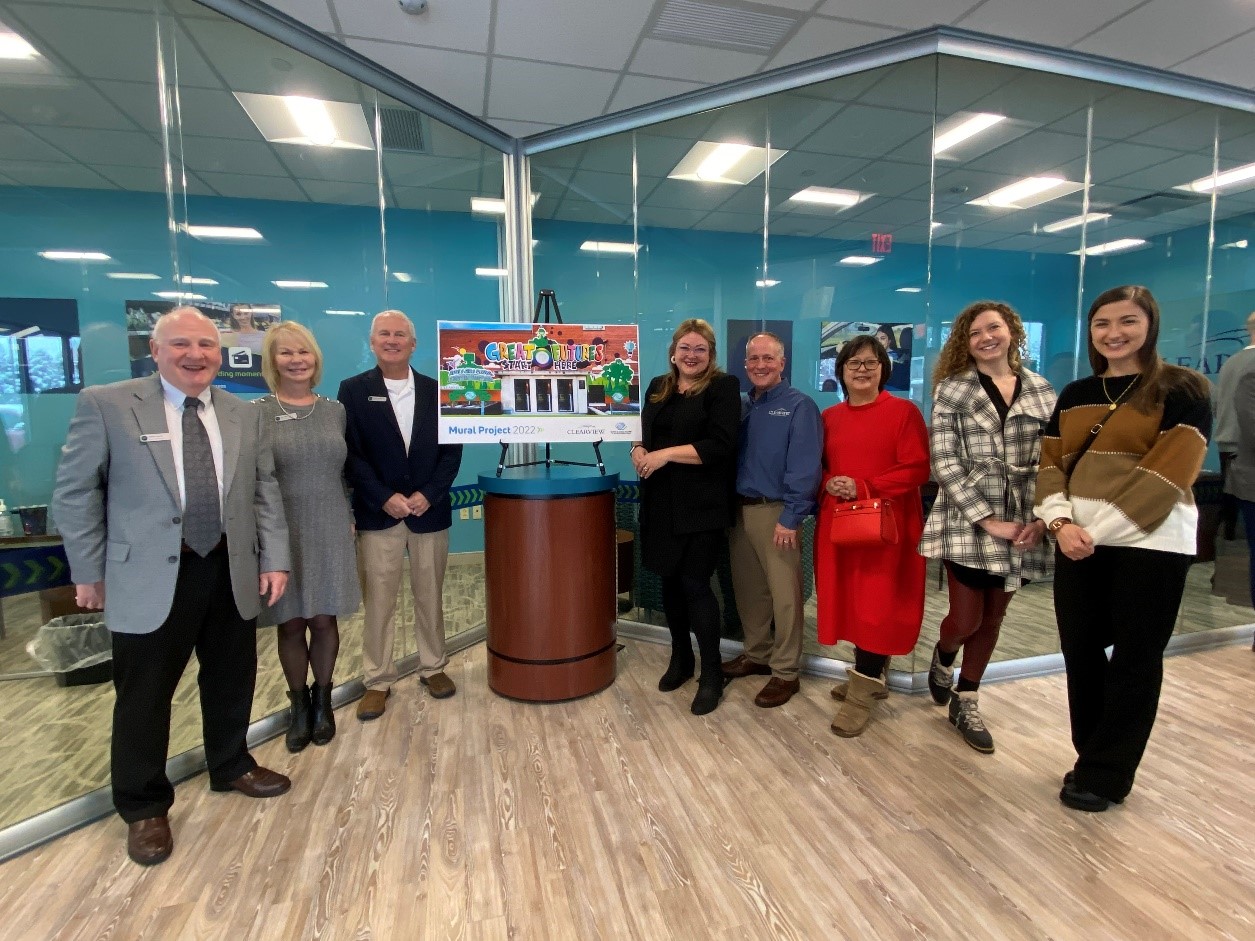 (l-r) Robert Farrell – Clearview Board of Directors; Victoria Mell – Chair, Clearview Board of Directors; Brian B. Notman, Jr. – Vice Chair, Clearview Board of Directors; Jessi March – Boys and Girls Club, Interim Vice President of Advancement & Philanthropy; Ron Celaschi – Clearview President & CEO; Terra Mayes; Sarah Blazincic; Megan Yelley – Boys and Girls Club

About Clearview Federal Credit Union
Clearview Federal Credit Union has been in operation since 1953 and serves over 110,000 members with reported assets valued over $1.6 billion as of January 2022. Membership in Clearview is open to individuals who live, work, worship, volunteer or attend school in the Southwestern Pennsylvania community, which includes Allegheny, Armstrong, Beaver, Butler, Fayette, Greene, Indiana, Lawrence, Washington and Westmoreland counties. Membership is also open to immediate family members of current Clearview members. Visit clearviewfcu.org for more information. Clearview Federal Credit Union is federally insured by the National Credit Union Administration and is an Equal Housing Lender.
About Boys and Girls Clubs of Western Pennsylvania.
Boys & Girls Clubs of Western Pennsylvania is a unique organization consisting of 14 Clubhouses and our Career Works Center. We currently operate in Allegheny and Somerset Counties. Seven of our Clubhouses are school-based sites and seven are stand-alone facilities. We also offer partner programs inside of school-districts and several other community centers across the Pittsburgh Metro and have expansion plans for surrounding counties. Through our programs, services and outreach we serve 12,000+ youth ages 4-18, making us one of the largest comprehensive after school/ youth services provider in our region. Our goal is to provide every young person with the essential tools needed for a successful and bright future by doing whatever it takes to activate and advance their potential.