Clearview provides over 30,000 meals during Hunger Action Month
Month long initiative supports Greater Pittsburgh Community Food Bank
Pittsburgh, PA, October 13, 2021…
Clearview Federal Credit Union fought hunger during September for Hunger Action Month in support of Greater Pittsburgh Community Food Bank (the Food Bank). The efforts included the following:
$6,000 donated online to include a match from Clearview.
Over 550 pounds of food collected in local communities.
Shirts supporting hunger action in Pittsburgh were sold to raise $543.
Staff volunteered 150 hours at local food pantries.
Two team volunteering days at the Food Bank to include Clearview's Executive Leadership Team, AVP's and Marketing Department. These efforts resulted in 2,600 packed boxes of food.
The total funds raised will help provide over 30,000 meals to the southwestern Pennsylvania region through the Food Bank.
"Hunger Action Month is a time to bring awareness for and take actions to address hunger in the community," said Jennifer Zgurich, director of corporate and community giving at the Food Bank. "Clearview Federal Credit Union is an incredible partner in addressing the needs of our neighbors facing hunger. The actions they took during Hunger Action Month have made a significant difference for our community."
The month-long effort was inspired by the growing increase in food insecurity in the region and a continued part of Clearview's partnership with the Food Bank. Clearview will raise funds for the Food Bank through the end of 2021 on its online donation platform and shirt sales.
"We are grateful for our partnership with the Food Bank. Our Hunger Action Month initiative was a collaboration from our staff, the Food Bank, and the communities that we serve. I am proud of this effort from our team here at Clearview as it brought so many people together to help people enjoy a better life," said Ron Celaschi, President and CEO of Clearview.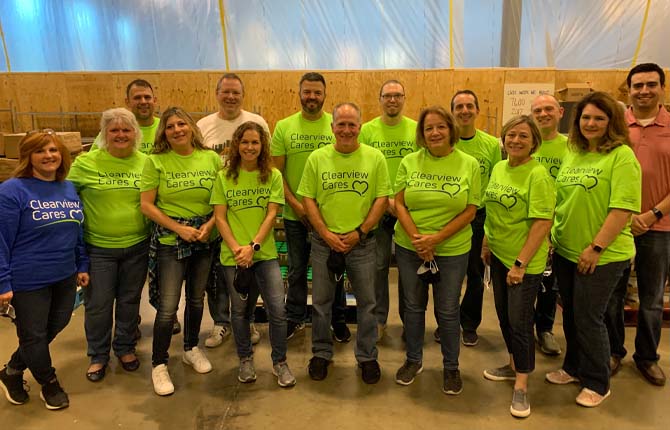 Clearview Executive Leadership Team and AVPs volunteering at Greater Pittsburgh Community Food Bank. Center – Ron Celaschi, President and CEO
About Clearview Federal Credit Union
Clearview Federal Credit Union has been in operation since 1953 and serves over 110,000 members with reported assets valued over $1.6 billion as of September 2021. Membership in Clearview is open to individuals who live, work, worship, volunteer or attend school in the Southwestern Pennsylvania community, which includes Allegheny, Armstrong, Beaver, Butler, Fayette, Greene, Indiana, Lawrence, Washington and Westmoreland counties. Membership is also open to immediate family members of current Clearview members. Visit clearviewfcu.org for more information. Clearview Federal Credit Union is federally insured by the National Credit Union Administration and is an Equal Housing Lender.
About Greater Pittsburgh Community Food Bank
Greater Pittsburgh Community Food Bank is a nonprofit organization that distributes food for more than 45 million meals annually across 11 counties in southwestern Pennsylvania through a network of more than 850 agencies, partners and programs. The Food Bank was founded in 1980 and is a member of Feeding America, the leading domestic hunger-relief charity in the U.S. For more information on hunger in our region or how to get involved, visit pittsburghfoodbank.org.