Clearview partners with WPXI's 11 Cares Program
Initiative to help provide Thanksgiving Meals through Light of Life Rescue Mission
Pittsburgh, PA, November 15, 2021…
Clearview Federal Credit Union's vision is "Helping People to Enjoy a Better Life," this vision is strengthened further with a new partnership with WPXI's 11 Cares program. This platform provides resources and brings awareness to community efforts to help make a difference in the Pittsburgh Area.
"This new year-long partnership with 11 Cares falls in line with our vision and our community initiative Clearview Cares," said Lisa Florian, Senior Vice President - Member Experience, Digital Strategy & Marketing. "This is a great opportunity for us to expand our reach to the communities we serve and put our 'care' into action. Clearview is more than just a financial institution; we are a true community partner."
Clearview joined WPXI, and the other 11 Cares partners, including 84 Lumber, Duquesne Light, and Gateway Health, to support Light of Life Rescue Mission with a community food drive on Saturday, November 6. Volunteers helped collect food items that will all be donated to help Light of Life Rescue Mission assemble and distribute 1,750 dinner boxes. These boxes will provide Pittsburgh families in need with a Thanksgiving dinner.
This event was part of a larger initiative
collecting funds
through November 22 to raise $10,000.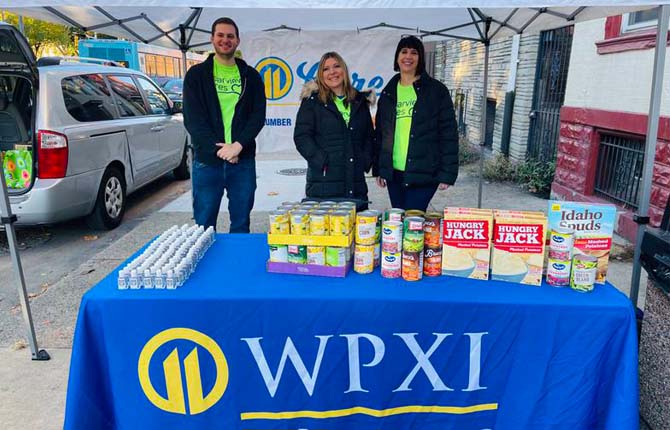 (l-r) Brad Eddy – Manager Community Engagement, Lisa Florian – Senior Vice President – Member Experience, Digital Strategy, and Marketing; Erin Forrester – Director – PR and Community Engagement.
About Clearview Federal Credit Union
Clearview Federal Credit Union has been in operation since 1953 and serves over 110,000 members with reported assets valued over $1.6 billion as of October 2021. Membership in Clearview is open to individuals who live, work, worship, volunteer or attend school in the Southwestern Pennsylvania community, which includes Allegheny, Armstrong, Beaver, Butler, Fayette, Greene, Indiana, Lawrence, Washington and Westmoreland counties. Membership is also open to immediate family members of current Clearview members. Visit clearviewfcu.org for more information. Clearview Federal Credit Union is federally insured by the National Credit Union Administration and is an Equal Housing Lender.