Clearview employee named 2021 Fraud Investigator of the Year
Heidi Hudak receives her third award from the IAFCI Pittsburgh Metro Chapter
Pittsburgh, PA, July 9, 2021…
Clearview Federal Credit Union is honored to announce that Heidi Hudak, Senior Fraud Detection and Protection, has been named the 2021 Fraud Investigator of the Year by the International Association of Financial Crimes Investigators Pittsburgh Metro Chapter. She previously received this honor in 2011 and 2013.
Ms. Hudak received this award for her assistance to the Allegheny County District Attorney's Office in a complex fraud/public corruption case during the pandemic. The information she provided in an expedited manner was above and beyond expectations during such a difficult time. Investigators believe that Heidi's dedication and tremendous work ethic were crucial in getting accurate and timely information necessary for filing charges in this case. She is known to bring this dedication and commitment to all the cases in which she is involved.
Ms. Hudak has been an active member of the IAFCI Pittsburgh Metro Chapter for the last ten years. She has served on the board of directors for eight of those years, mainly in the role of Treasurer.
"If this last year has taught us anything it is, we are all in this together - we need to assist one another for the greater good," Heidi said on winning this award. "It's not so much that "I" did this - this was a team effort between myself and the District Attorney's office to make things right."
President and CEO Ron Celaschi states, "Clearview is proud of Heidi's recognition from the IAFCI. She is a tremendous asset to the organization as well as the financial crime community. She has the best interests of our members, as well as those in the community, at heart".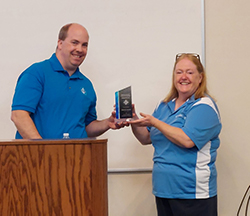 Pictured (l-r) – Detective Kevin Flanigan of the Allegheny County District Attorney's Office and Heid Hudak, Senior Fraud Detection and Prevention Analyst at Clearview Federal Credit Union
About Clearview Federal Credit Union
Clearview Federal Credit Union has been in operation since 1953 and serves over 109,000 members with reported assets valued over $1.5 billion as of June 2021. Membership in Clearview is open to individuals who live, work, worship, volunteer or attend school in the Southwestern Pennsylvania community, which includes Allegheny, Armstrong, Beaver, Butler, Fayette, Greene, Indiana, Lawrence, Washington and Westmoreland counties. Membership is also open to immediate family members of current Clearview members. Visit clearviewfcu.org for more information. Clearview Federal Credit Union is federally insured by the National Credit Union Administration and is an Equal Housing Lender.