Clearview donated $20,000 to charities during holiday season
Program provided local organizations with gifts and funds to support their missions
Pittsburgh, PA, December 22, 2021… Clearview Federal Credit Union recently donated $20,000 among southwestern Pennsylvania charities for a holiday giving program. The donations were delivered during the first two weeks of December by members of Clearview's Executive Leadership Team as part of the Clearview Cares initiative.
The organizations impacted through this year's holiday giving program were: Adoption Connection, The Lighthouse Foundation, Familylinks and Operation Troop Appreciation.
At each charity, members of the Executive Leadership Team presented a $2,500 donation. In addition, they delivered gifts based upon the needs of each organization to include: duffel bags and toys for 100 children in the foster care system at Adoption Connection, 500 toys to the Lighthouse Foundation's annual Toy Shoppe, 150 winter coats and hats to support Familylinks clients throughout the winter, and home care items to support over 100 veterans and active military at Operation Troop Appreciation.
Clearview employees supported the holiday giving program by volunteering nearly 100 hours of their time to shop for all of the items that were delivered. The holiday giving initiative reflects Clearview's vision of helping people to enjoy a better life.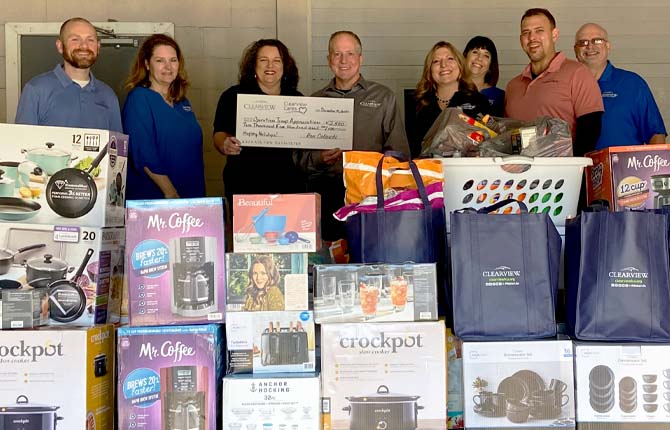 (l-r) Bill Snider, VP - Digital Strategy & Marketing; Janet Pretoroti, VP - Member Experience; Sherry Einhaus, COO - Operation Troop Appreciation; Ron Celaschi, President & CEO; Lisa Florian, SVP - Member Experience, Digital Strategy & Marketing, Erin Forrester, Director - PR & Community Engagement, Dustin Holmberg, VP, Lending, Ray George – VP - Information Technology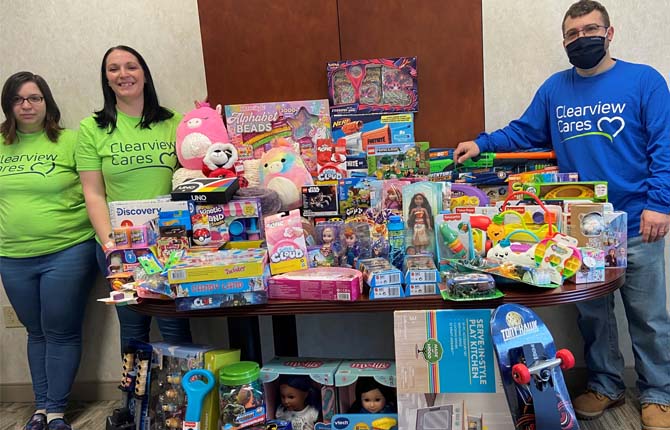 Clearview staff showcasing donated toys.
About Clearview Federal Credit Union
Clearview Federal Credit Union has been in operation since 1953 and serves over 110,000 members with reported assets valued over $1.6 billion as of November 2021. Membership in Clearview is open to individuals who live, work, worship, volunteer or attend school in the Southwestern Pennsylvania community, which includes Allegheny, Armstrong, Beaver, Butler, Fayette, Greene, Indiana, Lawrence, Washington and Westmoreland counties. Membership is also open to immediate family members of current Clearview members. Visit clearviewfcu.org for more information. Clearview Federal Credit Union is federally insured by the National Credit Union Administration and is an Equal Housing Lender.