Clearview Charity Bracket Campaign A Slam Dunk
Sports bracket social media campaign helps animal charity with $2,500 donation
Pittsburgh, PA, April 6, 2022… Clearview Federal Credit Union held its third annual non-profit sports bracket contest, "Clearview Craziness," featuring 16 non-profit organizations located in the Pittsburgh region. The organizations featured were selected by the Clearview staff. The competition was held on Facebook and Instagram throughout March in the spirit of the college basketball tournament. The winning non-profit, the Beaver County Humane Society, was the champion, receiving a $2,500 donation.
Clearview continues its commitment and dedication to supporting the communities it serves. As a community financial institution, Clearview's heart is always with its neighbors as to its vision of "Helping people to enjoy a better life."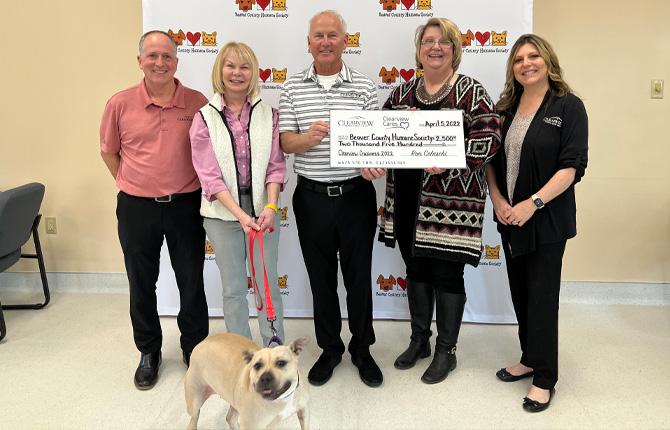 (l-r) Ron Celaschi – Clearview President & CEO; Victoria Mell – Chair, Clearview Board of Directors; Brian B. Notman, Jr. – Vice Chair, Clearview Board of Directors; Susan Salyards, Executive Director, Beaver County Humane Society; Lisa Florian – Senior Vice President – Member Experience, Digital Strategy & Marketing
About Clearview Federal Credit Union
Clearview Federal Credit Union has been in operation since 1953 and serves over 111,000 members with reported assets valued over $1.6 billion as of March 2022. Membership in Clearview is open to individuals who live, work, worship, volunteer or attend school in the Southwestern Pennsylvania community, which includes Allegheny, Armstrong, Beaver, Butler, Fayette, Greene, Indiana, Lawrence, Washington and Westmoreland counties. Membership is also open to immediate family members of current Clearview members. Clearview Federal Credit Union is federally insured by the National Credit Union Administration and is an Equal Housing Lender. Visit clearviewfcu.org for more information.