Helping you to enjoy a better life.
Hi there! This is your partner newsletter that we like to send as a reminder of all the benefits your organization has access to as a Clearview partner. Please forward to everyone in your organization so they don't miss out!
You can use the button below to share this newsletter with your employees, volunteers, members, etc. We ask that you please only share this info in a closed group where the members are involved with your organization and not the general public. Thank you!
Share this email:
---
Praise from
our partners!
"As Senior Director of Human Resources, I appreciate the opportunity to partner with any organization that will help our employees meet some of their financial wellness goals. I am happy to partner with Clearview." - Thomas Fowler, Manchester Bidwell Corporation
Manchester Bidwell Corporation (MBC) is a non-profit organization based in Pittsburgh known for its holistic approach to education and community development. MBC integrates education, creative expression, and social enterprise to engage and serve individuals from diverse backgrounds, nurturing their creativity and skills.
---
You're in good hands with
LifeCents!
Ready to dive into LifeCents? This program provides a wealth of financial wellness information in an easy to use format with various fun videos, articles, and worksheets. As always, this exclusive CPP partner benefit is available at no cost to you!
So, let's get started! Join in the fun at cppemployees.lifecents.com and select Sign Up to begin!
---
What being part of the
Clearview Partner Program

means for you.

When you open an account with Clearview, that makes you a member, giving you access to these Clearview Partner Program benefits:
Access to onsite or virtual instructor-led training for a group or one-on-one instruction
Experience our premium Absolute Checking® account with no fees for a year, a $60 value1
Earn 0.33% more when you open a new certificate2
0.25% discount when a loan is automatically paid from a Clearview checking account3
We automatically add $10 to your savings account
When you apply online, be sure to select your organization's name to qualify for these Clearview Partner Program benefits.
Apply now
---
Earn up to
$500!
Earn up to $500 when you open a checking account with us now and join the Clearview family! Use promo code switch.
Continue the switch and easily move direct deposits and automatic payments to your Clearview account with ClickSWITCH.
---
Check out our latest, Money Monday segment!
In our latest segment, Costas Grekis of Clearview Wealth Management GroupSM, available through CFS*, talks about the importance of meeting with a financial advisor.
Remember, you can hang out with Clearview and the PTL crew live on KDKA at 9 a.m. and on KDKA+ at 1 p.m. the first Monday of every month!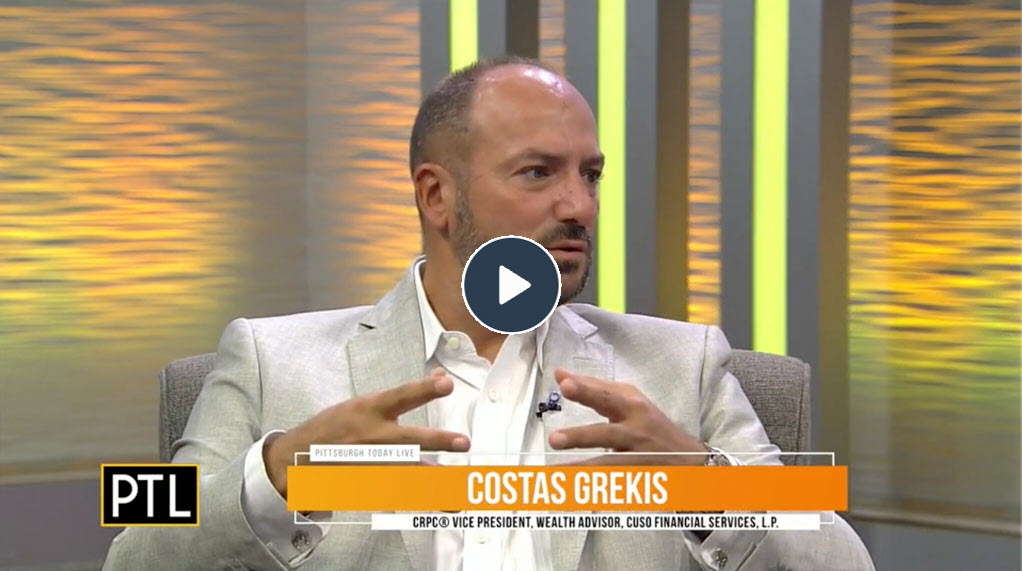 ---
October is Financial Planning Month! If you're ready to start investing, these seven guiding principles can help you reach your financial goals.
---
Hunger Action Month

was a success!

Clearview presented a generous donation of $10,000 to the

Greater Pittsburgh Community Food Bank

to support their Volunteer Fundraiser for Hunger Action Month. Throughout September, we committed to matching donations of up to $10,000. Together, the campaign successfully raised nearly $24,000 to combat hunger in the Pittsburgh community.
---
Pittsburgh
Top Workplace
We're thrilled to announce that we've been recognized as a Pittsburgh Post-Gazette Top Workplace for 2023! A huge thank you goes out to all our amazing employees who continue to make our organization shine.
---
Best of

Pittsburgh

We're also proud to be recognized as the Best Credit Union by the readers of the Pittsburgh City Paper! Thank you to everyone who voted for us to receive this special honor.
---
Financial Security

Tip of the Month

At Clearview, financial security is important to us and we're constantly taking steps to protect you from the threats of fraud and scams. With this in mind, here's this month's financial security tip to help keep you safe!

Tip: Frequently review your account statements and transactions for any unauthorized or suspicious activity. The sooner you spot something wrong, the faster you can take action to secure your account. If you detect something suspicious, be sure to report it to us immediately by calling our Care Center at 1-800-926-0003. Remember, we will also never initiate a call, email, or text asking for your online banking information.

For more information and tips to keep you safe, visit our Security Center.
---
1. Available only to new overall membership accounts with an active Business (affiliation) Partner as the member's employer and they open an Absolute Checking® account. Also available to existing overall membership accounts without a checking product. After one year, maintain a $10,000 combined balance among all your Clearview deposits (savings, checking, IRAs and certificates), a $20,000 combined balance of your deposits and loans or deposit $5,000 or more in total direct deposits during the month and the $5.00 monthly fee ($2.00 for members age 25 and under) will be waived.
2. 100% new money for new members, existing Clearview members need 50% new money to get rate increase. Cannot be combined with any other offer or promotional rate.
3. Excludes Indirect Auto Loans. Cannot be combined with any other loan offer.

* Non-deposit investment products and services are offered through CUSO Financial Services, LP ("CFS"), a registered broker-dealer (Member FINRA / SIPC) and SEC Registered Investment Advisor. Products offered through CFS: are not NCUA/NCUSIF or otherwise federally insured, are not guarantees or obligations of the credit union, and may involve investment risk including possible loss of principal. Investment Representatives are registered through CFS. The Credit Union has contracted with CFS to make non-deposit investment products and services available to credit union members.

Financial Advisors are registered to conduct securities business and licensed to conduct insurance business in limited states. Response to, or contact with, residents of other states will be made only upon compliance with applicable licensing and registration requirements. The information in this website is for U.S. residents only and does not constitute an offer to sell, or a solicitation of an offer to purchase brokerage services to persons outside of the United States.

CFS representatives do not provide tax or legal guidance. For such guidance please consult with a qualified professional. Information shown is for general illustration purposes and does not predict or depict the performance of any investment or strategy. Past performance does not guarantee future results.