Helping you to enjoy a better life.
Hi there! This is your partner newsletter that we like to send as a reminder of all the benefits your organization has access to as a Clearview partner. Please forward to everyone in your organization so they don't miss out!
You can use the button below to share this newsletter with your employees, volunteers, members, etc. We ask that you please only share this info in a closed group where the members are involved with your organization and not the general public. Thank you!
Share this email:
---
Continue your
financial wellness journey

with LifeCents!

The LifeCents financial literacy program continues to be a hit! This program provides a wealth of financial wellness information in an easy to use format with various fun videos, articles, and worksheets. As always, this exclusive CPP partner benefit is available at no cost to you!

Ready to give it a try? Join in the fun at cppemployees.lifecents.com and select Sign Up to get started!
---
What being part of the
Clearview Partner Program

means for you.

When you open an account with Clearview, that makes you a member, giving you access to these Clearview Partner Program benefits:
Access to onsite or virtual instructor-led training for a group or one-on-one instruction
Experience our premium Absolute Checking® account with no fees for a year, a $60 value1
Earn 0.33% more when you open a new certificate2
0.25% discount when a loan is automatically paid from a Clearview checking account3
We automatically add $10 to your savings account
When you apply online, be sure to select your organization's name to qualify for these Clearview Partner Program benefits.
Apply now
---
Earn up to
$500!
Earn up to $500 when you open a checking account with us now and join the Clearview family! Use promo code switch.
Continue the switch and easily move direct deposits and automatic payments to your Clearview account with ClickSWITCH.
---
The semester

will be here before you know it!

Shopping, planning, and packing — OH MY! Going back to school is stressful enough and we want to make sure that your (or your loved one's) personal finances are stress free. Here are some tips and ideas on how to save money in college, before and during the next semester.
Money Management is a fantastic budgeting feature for all students (and their parents!). This free tool provides you with a 360-degree view of your finances all in one place.
---
Check out our latest

Money Monday

segment!
In this month's segment, Chris Lucatorto, our Vice President of Finance, offers advice on how to take advantage of deposit offers to build up your savings during the current elevated rate environment.
Remember, you can hang out with Clearview and the PTL crew live on KDKA at 9 a.m. and on Pittsburgh's CW at 1 p.m. the first Monday of every month!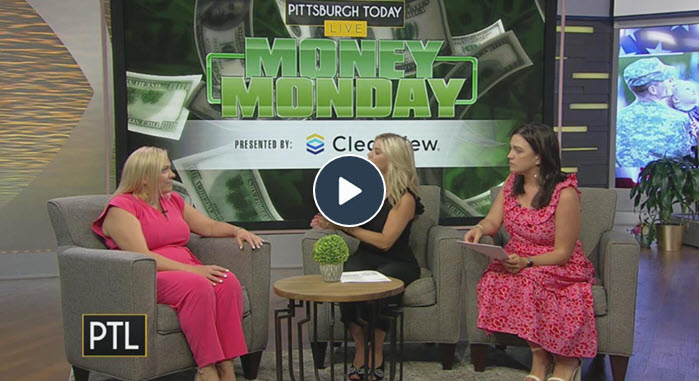 ---
Congratulations

are in order!

We recently announced the winner of our 2023 Joseph C. Cirelli Community Service Award. Beth M., outstanding volunteer for North Hills Cares, is the Program Director for the Summer Lunch Program, which has served over 40,000 meals to children since 2020, replacing the 10 meals per week that can be lost by food insecure students during the months when schools are closed.

We also want to congratulate this year's Ralph B. Canterbury Scholarship Winners! We had the pleasure of awarding $1,500 to ten exceptional student leaders for their hard work, community involvement, and academics.

As these students continue their educational journey, we're excited to see the remarkable contributions they'll make to shape our future! Recipients were chosen based on their personal goals, activities, community involvement, outstanding academic performance, and a video essay about the credit union of the future.
---
Financial Security

Tip of the Month

At Clearview, financial security is important to us and we're constantly taking steps to protect you from the threats of fraud and scams. With this in mind, we're starting a new monthly segment featuring a financial security tip to help keep you safe!

Tip: Don't use Cash App, Zelle®, or other money transferring services for transactions with people you don't know. You cannot cancel the transaction or obtain a refund when merchandise is not received or is not what you were expecting. In other words, only send money to people you trust!

For more information and tips to keep you safe, visit our Security Center.
---
1. Available only to new overall membership accounts with an active Business (affiliation) Partner as the member's employer and they open an Absolute Checking® account. Also available to existing overall membership accounts without a checking product. After one year, maintain a $10,000 combined balance among all your Clearview deposits (savings, checking, IRAs and certificates), a $20,000 combined balance of your deposits and loans or deposit $5,000 or more in total direct deposits during the month and the $5.00 monthly fee ($2.00 for members age 25 and under) will be waived.
2. 100% new money for new members, existing Clearview members need 50% new money to get rate increase. Cannot be combined with any other offer or promotional rate.
3. Excludes Indirect Auto Loans. Cannot be combined with any other loan offer.