Helping you to enjoy a better life.
Hi there! This is your partner newsletter that we like to send as a reminder of all the benefits your organization has access to as a Clearview partner. Please forward to everyone in your organization so they don't miss out!
You can use the button below to share this newsletter with your employees, volunteers, members, etc. We ask that you please only share this info in a closed group where the members are involved with your organization and not the general public. Thank you!
Share this email:
---
Praise from
our partners!
"One of the many benefits of working for Vincentian is access to our Partner Program with Clearview Federal Credit Union! Our Relationship Development Officer, Melissa, stopped by to meet our employees and answer questions." – Vincentian
Vincentian is a Catholic not-for-profit health care and human services organization that offers a continuum of care for more than 2,000 seniors per year, including independent living, personal care, memory care, short-term rehabilitation, and skilled nursing. We're proud to partner with them to offer financial services to their team!
---
Ready to give
LifeCents a try?
Continue your financial wellness journey with LifeCents! This program provides a wealth of financial wellness information in an easy to use format with various fun videos, articles, and worksheets. As always, this exclusive CPP partner benefit is available at no cost to you!
Want to give it a try? Join in the fun at cppemployees.lifecents.com and select Sign Up to get started!
---
What being part of the
Clearview Partner Program

means for you.

When you open an account with Clearview, that makes you a member, giving you access to these Clearview Partner Program benefits:
Access to onsite or virtual instructor-led training for a group or one-on-one instruction
Experience our premium Absolute Checking® account with no fees for a year, a $60 value1
Earn 0.33% more when you open a new certificate2
0.25% discount when a loan is automatically paid from a Clearview checking account3
We automatically add $10 to your savings account
When you apply online, be sure to select your organization's name to qualify for these Clearview Partner Program benefits.
Apply now
---
Earn up to
$500!
Earn up to $500 when you open a checking account with us now and join the Clearview family! Use promo code switch.
Continue the switch and easily move direct deposits and automatic payments to your Clearview account with ClickSWITCH.
---
Checking in on you finances
after summer spending
Summer camps, pool passes, evening ice cream runs, and travel expenses can quickly put a dent in even the most thought out and carefully planned budgets. With that in mind and with summer activities coming to a close, you may be looking to cool down your spending.
Here are a few tools and features that can help you get back on track:
Our budgeting tool, Money Management, has a variety of features that provide you with a 360-degree view of your finances in a single location, giving you insights broken down into different categories such as spending, transactions, accounts, goals, and more!
The holidays will be here before you know it. If you're looking to recoup your savings after your summer of spending, our Savings Goal Calculator is here to help.
Stay in the know by setting up alerts and notifications for your accounts. You can set notifications to stay informed of your account activity as it happens and set alerts to stay ahead of what's next.
---
Check out our latest

Money Monday

segment!
It's back to school time and 90's trends are back in style! This month, Wendy Smith, our Assistant Vice President of Payment Systems, is here with one of those throwback trends to help us demystify credit card myths.
Heads up! Due to the Labor Day holiday, our September segment will air on Monday, September 18, on KDKA at 9 a.m. and on Pittsburgh's CW at 1 p.m.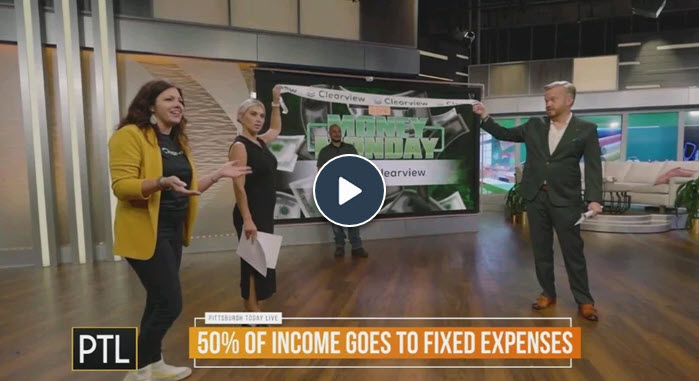 ---
Understanding your credit score can be confusing, but don't be fooled. We're here to debunk other common credit myths that may end up surprising you!
---
Kids Fest
We had a great time as the sponsor of Kids Fest at the Pittsburgh Celebrity Softball Game event benefiting The Cameron Heyward Foundation and their incredible work for the Pittsburgh community. We're also grateful that our friends from Pittsburgh Hardball Academy joined us, cheering on the players and spreading their love for the game.
---
Young Naturalists Program
We're thrilled to announce our newest collaboration with the Pittsburgh Parks Conservancy through their Young Naturalists Program! This initiative empowers local high school students to make a difference in the world by addressing environmental concerns and safeguarding beloved park spaces in the Pittsburgh region for generations to come.
---
Financial Security

Tip of the Month

At Clearview, financial security is important to us and we're constantly taking steps to protect you from the threats of fraud and scams. With this in mind, here's this month's financial security tip to help keep you safe!

Tip: Be aware of gift card scams. In these scenarios, scammers will create a sense of urgency, tell you which gift cards to buy, and then ask for the card number and PIN code. Doing this is the same as giving the scammer cash and we have no way to get those funds back for you. To summarize, if anyone calls you and asks you to pay in gift cards, it's usually a scam.

For more information and tips to keep you safe, visit our Security Center.
---
1. Available only to new overall membership accounts with an active Business (affiliation) Partner as the member's employer and they open an Absolute Checking® account. Also available to existing overall membership accounts without a checking product. After one year, maintain a $10,000 combined balance among all your Clearview deposits (savings, checking, IRAs and certificates), a $20,000 combined balance of your deposits and loans or deposit $5,000 or more in total direct deposits during the month and the $5.00 monthly fee ($2.00 for members age 25 and under) will be waived.
2. 100% new money for new members, existing Clearview members need 50% new money to get rate increase. Cannot be combined with any other offer or promotional rate.
3. Excludes Indirect Auto Loans. Cannot be combined with any other loan offer.